बैंक करे परेशान तो, तो जानिए अपने अधिकार|
Apply SBI EMudra Online
मुद्रा लोन के लिए तैयारी कैसे करे|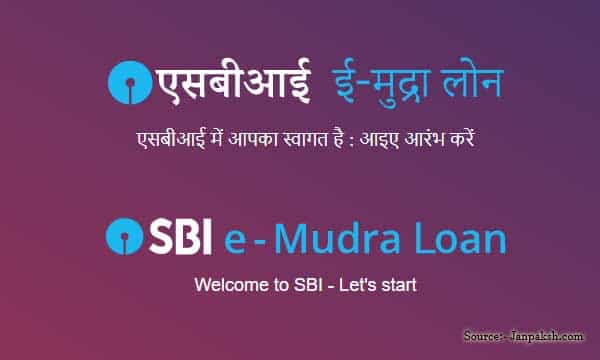 India's biggest public sector bank SBI has launched an Instant Mudra scheme to the name of "EMUDRA". That loan is available in SHISHU category. Under that scheme, an applicant will get an instant loans up to 50,000. To get that scheme your account should be mapped with Aadhaar & working mobile number.
Check the other details before applying Mudra Loan Online. It is a collateral-free loan and no guarantee requires.
बैंक करे परेशान तो, तो जानिए अपने अधिकार|
Instruction to use e-Mudra application
1) The loan application will just be one screen having relevant questions that you need to quickly fill through or select through Dropdown menu provided.
2) Ensure that you go through all the steps and complete the application in one go so that you can have a hassle-free experience and a faster approval
3) The e-Mudra application is currently for existing customers who have SBI Savings/ Current Account Number. Please ensure that you have your correct account number with you at the time of application.
4) Aadhaar Number (voluntarily): Aadhaar number is required for doing e-KYC instantaneously through the app. You have to tick on consent checkbox for sharing Aadhaar for e-KYC. An OTP is triggered to your Aadhaar linked mobile number, which you need to enter in the application to complete the e-KYC process.
5) If you don't wish to give your Aadhaar details, your loan request will be manually processed at our branch.
6) Documents to be uploaded (Optional): Scanned copy / Photo of any one of the following: (a) Shop & Establishment Certificate, (b) GST Registration Certificate, (c) Udyog Aadhaar, (d) any other business registration document. Document size should not exceed 2MB and format should only be PDF, JPEG or PNG.
7) Business Name, Business start date, and Business Address: The business details need to be provided in the input form wherever requested. This information will later be used by the SBI team to verify your business address.
8) Community details and Religion: We need this data for SBI as a part of their credit policy. Community Details – General/SC/ST/OBC/Minority.
9) Sales details: Please keep ready the Sale turnover figures, account details wherein sale proceeds get credited (Account number, Bank and Branch name).
10) E-Sign: You are required to online accept SBI e-Mudra Terms and Conditions by providing your Aadhaar number. You have to tick on the consent checkbox for sharing Aadhaar for e-Sign purposes. An OTP is triggered to your Aadhaar linked mobile number, which you need to enter in the application to complete the e-Sign process.
If you are facing any issue in getting a mudra loan or someone is asking for money. Please contact SBI officials or mail us mudra @ janpaksh.com. We will forward your complaint to concern authorities.
हिंदी में जानकारी के लिए यहाँ क्लिक करे|